Tokyo has a reputation for having some of the best speakeasies in the world. Is it true? I'm not sure, but there is one bar I can tell you all about; Wall.
Where it is:
The physical address of Wall is Minato City, Minamiaoyama, 5 Chome−4−30 CoSTUME NATIONAL Aoyama Complex1F What does that mean? Hard to say. Japanese addresses are still a mystery to me. What I do know is that Wall is hard as hell to find.
In fact, as of the publish date of this post, Wall has been the most difficult speakeasy I've ever found. This place is difficult to find…don't underestimate it. But honestly, that's the fun of Wall. Maybe, with Wall, the destination really was in the journey. Maybe the real speakeasy was the friends I made along the way.
In any case, if you find Reginald the Raptor, you know you're in the right general location.
Can I take a client here?
As long as your client isn't a typical Tokyo-ite who basically works 100%+ of the time, sure. It's a pretty chill spot.
Reservations?
Not necessary.
Price:
A little pricey even for a speakeasy. I don't remember exactly how much I was spending per drink, but I definitely remember it being a bit more expensive than I was expecting.
What To Wear:
Wall doesn't have a dress code that I know of.
How To Get In:
Oookay…this is the hard part of this post. Let me start with google maps: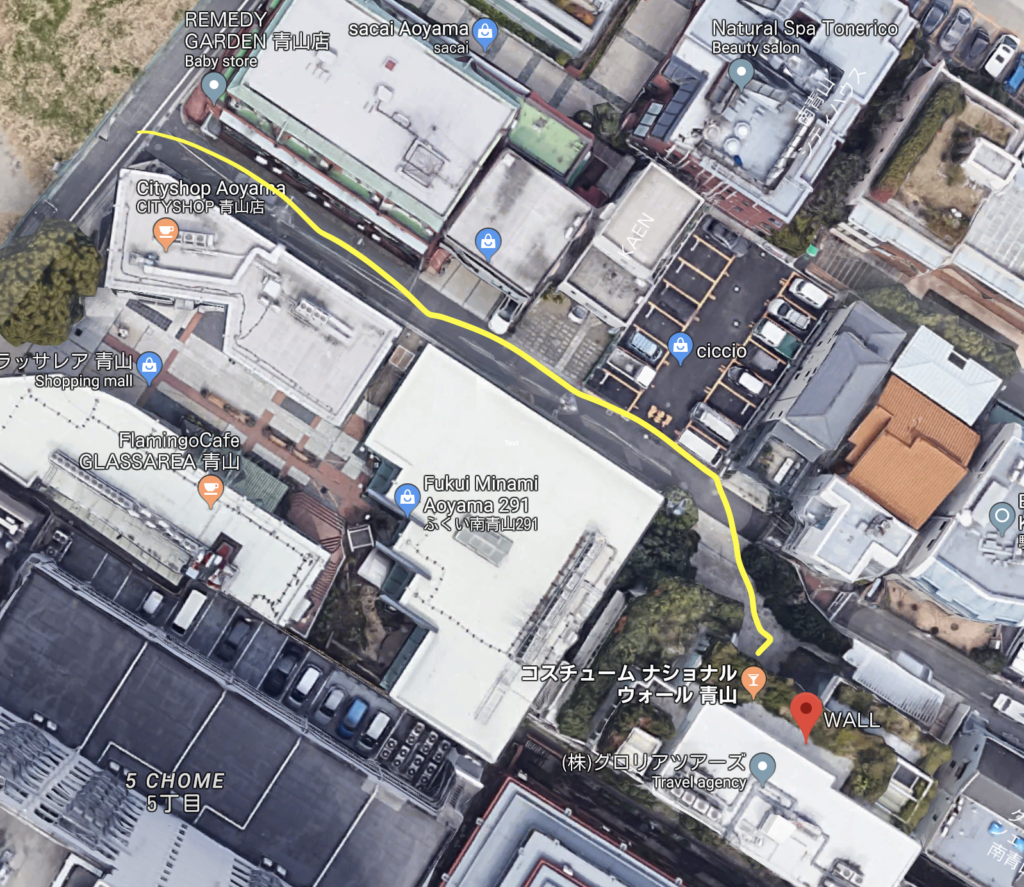 Please refer to the above photo, the way to get to Wall is via the closest access road. Wall basically exists behind a small shopping mall, and only has one real way to get in as far as I can tell. To get to Wall, you end up having to go down an alley that doesn't look too inviting, especially at night.
If you make it to the right alley, You'll be greeted with the unmarked entrance of Wall. This foreboding looking door holds something truly special, but only if you have the will to go through it. If you get up the courage to open the door (it's super heavy…) you'll be in a vestibule with similar looking doors to your left and right.
In fact, when you go through the first door, you might even think you made a mistake and ended up in the wrong place. That's okay, this is part of the charm of speakeasies. Maybe you did make a mistake. Maybe you're not in the right place and you're about to get arrested for trespassing. The door on your right is the door you want.
The reward for going through the right doors is great.
What To Drink:
Whiskey. Wall has a large selection of domestic Japanese whiskey, which, if you're into that, there are probably better places to go in Tokyo (a whiskey bar for instance) but why would you go there when you can go to a hidden speakeasy?
Wall does have other mixed drinks as well, but their options are limited. Whiskey is probably what you want here.
Ambiance:
The gimmick Wall uses is its namesake living wall of ivy (or whatever it is. I don't know, I'm not a botanist…)
Wall has inside and outside seating which is great for hot-ass summer evenings. The outside seating is hidden from street view and helps keep the feeling that you're in a secret place.
TL;DR Verdict:
Wall has a charm, but the interior is very minimalist. You won't find complex theming at Wall, but what makes it special is in how hard it is to find. For those who have the ambition to find Wall, you'll be a member of a relatively small group of speakeasy enthusiasts who were determined enough to go through doors they weren't quite sure about in a place that is honestly a little alarming, especially when you're a a girl by yourself in a new city.