So you're in London and you want to check out a speakeasy with a 1930's setting and a detective agency motif…Evans & Peel Detective Agency is probably where you want to end up. Can you convince them to take on your case?
Why Should I Go Here?
Evans & Peel Detective Company is one of the most performative speakeasies I've ever been to. You have to have a quick wit to get in if you don't have a reservation, but for anyone who can play along and improvise, Evans & Peel had a very playful atmosphere.
Where it is:
The Evans & Peel Detective Agency office is located in West Kensington, London.
Can I take a client here?
I don't see why not.
Reservations?
If it's a busy weekend, it would probably be a good idea to call ahead, but it's not required.
How To Get In:
The first thing you have to do is find the door. It's not the hardest place to find, but you do need to know exactly where it is. Once you find the door, You'll be ready for the next test.
To get in, you use the intercom in the photo above. After a ring or two, a detective will speak to you and ask you if you have a reservation. If you don't, he will ask you what you need the detective agency for. You'd better have a good answer.
If the detective is satisfied with the answer you gave him over the intercom, you'll be allowed to come through the door. Just inside, there will be a stairway going down. This will be your time to prepare for questioning.
Once you get to the bottom of the stairs, you'll find yourself in a detective's office.
The detective will then begin to ask you questions about your case. Who are you looking for? When did you last see them? Why do you think they're missing?
In my case, I was looking for my "uncle Carmine" who disappeared in New York two weeks prior. We believed that he had been working on weapons for The Germans (but that was just a rumor. We didn't know for sure.) We were also asked to give a physical description of our missing family member (uncle Carmine was short and stout like a tea kettle and had last been seen in a heavy wool jacket and scarf. In the summer.)
If your story is bad, or if it doesn't fit the 1930's timeframe, you run the risk of not being let in. Prove you want to be there by giving them a compelling story and play along. If you give them a bad vibe, you won't get to see what's behind the book case.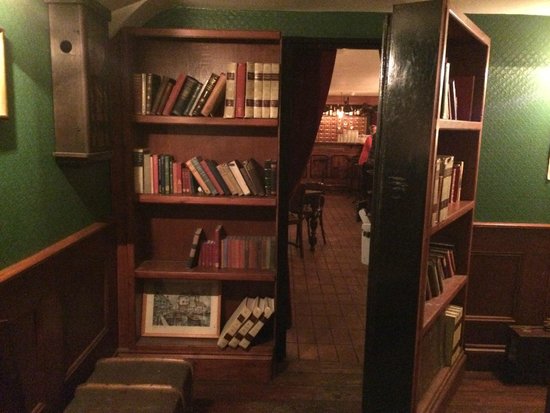 After successfully handing our case off to the detective, we were told to "go on in and relax while we work your case." We never did find uncle Carmine though. Great drinks, lousy detectives.
Price:
Cocktail bar prices. 13-20 pounds/drink.
What To Wear:
Similar to The Red Phone Booth, you don't need to be dressed to the 9's, but something a little higher than casual is required.
What To Drink:
The menu at Evans & Peel is a dossier. No, really.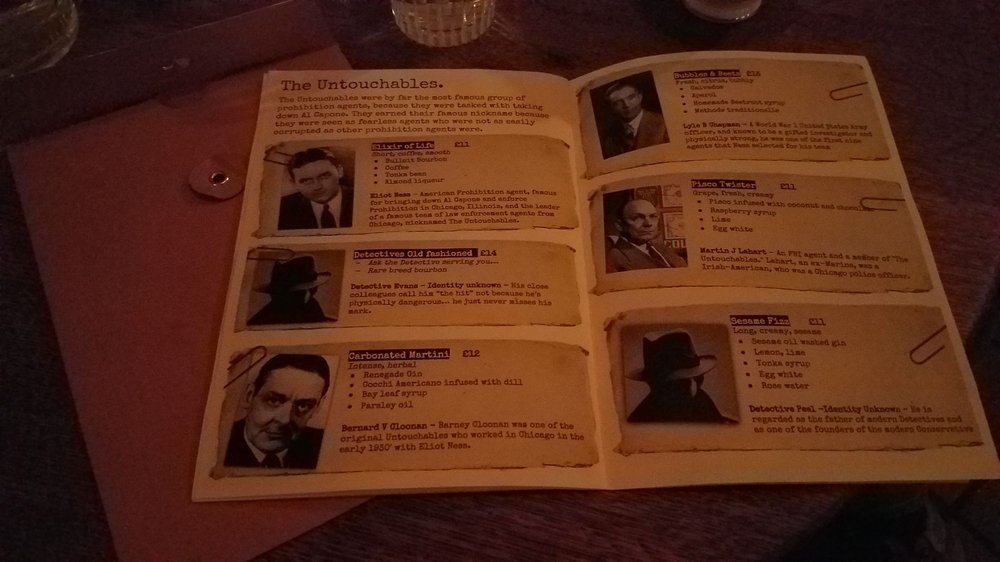 The drinks are named after famous mobsters of days past. I opted for a "Jane Doe" which is shorthand in Evans & Peel for a mystery drink of the bartender's choosing. My bartender told me that he would make me a "gin based" drink, but that's all I knew going in. This is what I was given:
The drink was delicious, but I don't remember the name. It contained gin, raspberry juice, a hint of lemon (bitters maybe?) and was very good. It was a bit like if all of the freezers in Jamba Juice stopped working, and instead of fixing them, the owners decided to make alcoholic drinks instead (free idea, Jamba. Get your shit together.)
Ambiance:
Evans & Peel will take you back to the days of 1930s gangsters and private eyes. It has a somewhat rustic motif going on, but the theme is clearly private investigations. The staff is playful and love to play along with whatever character you feel like being while you're there.
It's worth mentioning that they do have a group event-type-thing in case you want to take a party of 13 or more people. This involves more interaction and a bit more showmanship once you're inside the speakeasy.
TL;DR Verdict:
I had a lot of fun with Evans & Peel. It challenges you to come up with something entertaining ahead of time and gives you a fun interaction just to get through the door. In a lot of ways, Evans & Peel reminds me of The Red Phone Booth. Friendly staff, and a slightly higher bar to get in, but if you're in London, it's a good spot to visit!